Red nails have long been a manicure classic. Historians say you can look as far back as Ancient Egypt and see evidence of a red lacquer adorning the nails of women. Queen Nefertiti and Cleopatra are said to have painted their nails a shade that resembled rubies or blood – an indicator of status. Experts record Chinese royalty in around 3000BC using beeswax, egg whites and vegetable dyes to color their nails red, too.
Nowadays it's a look that still speaks to being polished, and it's become evocative of both old Hollywood glamor and French girl effortlessness. Most recently, the #rednailtheory hashtag on TikTok saw women painting their nails in order to put the seductiveness of the manicure look to the test.
With the winter months now near at hand, expect a revival of all the deep berry nail polish shades and crimson gels that nail obsessives relinquished over summer. Nail expert Alexandra Telek points out, 'The festive season is all about love and kindness. Red has been a symbolic color for love and passion that is present everywhere throughout this beautiful season.' Duly noted.
Red is a shade that can suit any nail length, shape or style. People can opt for a simple classic red block color, French or Italian style tips or even an exciting nail art set. A red manicure can be as simple or as intricate as you want. Everyone can find a style that suits them,' she adds. Here are all the tips, tricks and looks you need to inspire you ahead of your next red manicure appointment.
What Are The Best Red Nail Polish Shades To Use At Home?
Take a leaf out of JLo's book and opt for a Merlot-like deep red. Attending the Ralph Lauren spring/summer 2023 show, Lopez showcased the perfect wine-level shade. Keen to emulate the look? Try Essie's appropriately named Nail Color 50 Bordeaux Nail Polish, £7.99.
Alexandra recommends red shades from Dior too, including Sisterhood, Rouge, RedRed, Rouge Cinema & Nuit. 'These gel effect nail lacquers are highly pigmented making it easier to work with at home, the formula also provides a long-wearing manicure.'
What Are The Best Red Gel Polish Shades To Ask For In A Salon?
Many of Alexandra's own clients routinely request red gel polish shades and she prefers opting for formulas from The Gel Bottle in the shades Iconic, Couture, Exclusive Access, Private Collection and Velvet Red. 'These gels all have highly pigmented formulas that make the application easy and lend the finished look impressive longevity,' adds Alexandra.
How To Pick The Right Red Nail Color For You
If you're feeling overwhelmed at the sheer volume of different red nails polish shades on offer, try picking one according to your skin tone. Alexandra often chooses a nail polish based on the undertone of her client's skin, if you have a cool skin tone, the perfect shade of red would be cherry red, brick red crimson or raspberry red. If you have a warmer skin tone, I recommend leaning more into the ruby ​​red, scarlet, rouge and velvet red shades.'
CREDIT: @thehotblend
The queen of BIAB nails @thehotblend created this spin on festive nails, with metallic scarlet tips and Santa's hat on top. An extremely cute take on Christmas-inspired nails, Alexandra used The Gel Bottle's Exclusive Access, £14.50, to create the sparkly tips in this look.
4 of 11
CREDIT: @jessicaannenails
Clean, classic red nails are here to stay and the best way to sport them is in a mid-length square shape and a block medium-deep hue. It's fool-proof, classic and a safe go-to.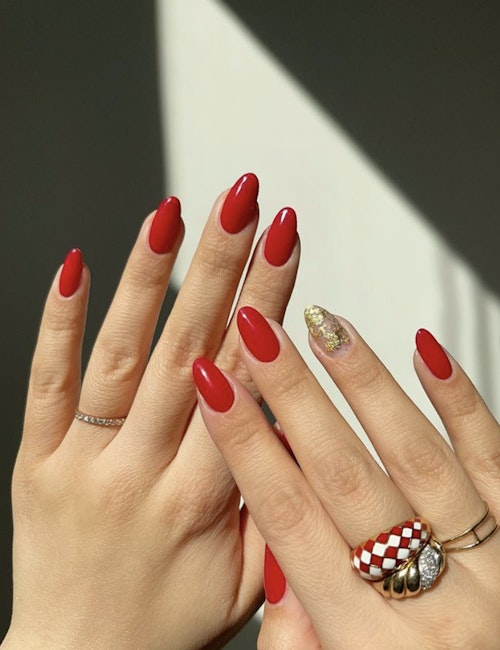 6 of 11
CREDIT: @amyle.nails
Amy Le uses a CND shellac polish in a true red shade to create this uniform oval look, but incorporates a rouge sparkly accent design with the help of CND's Plexigel, £24 for a fun variation on a classic.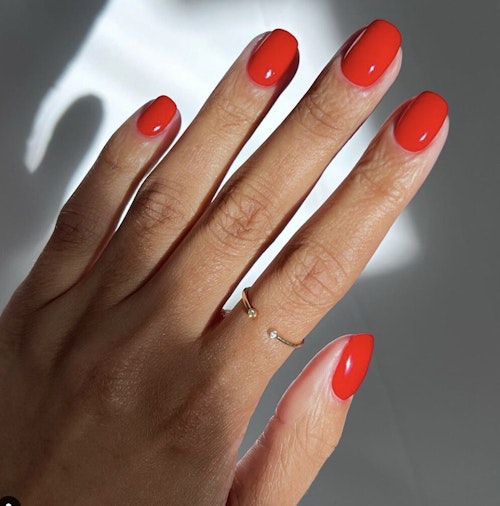 7 of 11
CREDIT: @iramshelton
Bright red nails are in constant demand. In fact, Google searches for the look are up 130% currently. Nail artist Iram Shelton proves just how easy it is to achieve it, as long as you have a reliable polish on hand. She opts for Hermes' Les Mains Hermes, Nail enamel in Rouge Casaque, £42.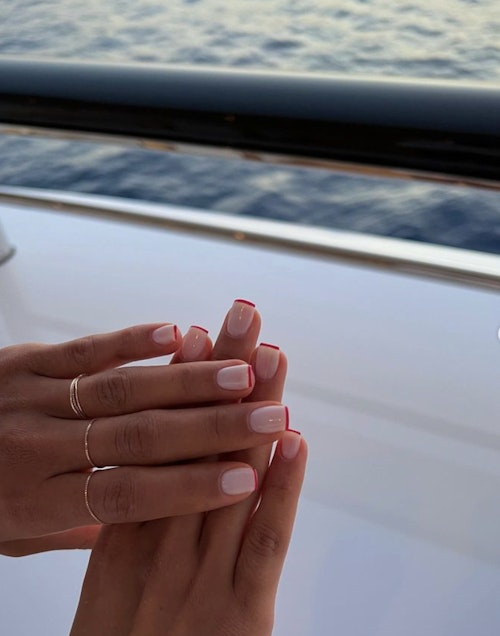 8 of 11
CREDIT: @harrietwestmoreland
Sometimes a hint of red is all you need and nail extraordinaire Harriet Westmoreland shows us exactly how it's done. Create a mid-length square shape, layer a pinky base before finishing off with a fine line of red on the tips. Voila!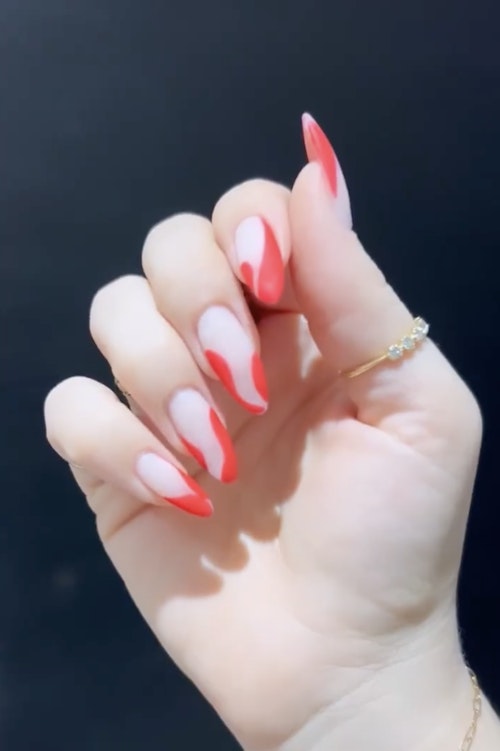 9 of 11
CREDIT: @nailsbymh
As well as signaling power, red is an instant indicator of fun and excitement so don't be afraid to play with designs. Celebrity manicurist Michelle Humphrey uses Bio Sculpture's gel polishes in Lyrics Of A Lily and Angelina for this abstract finish.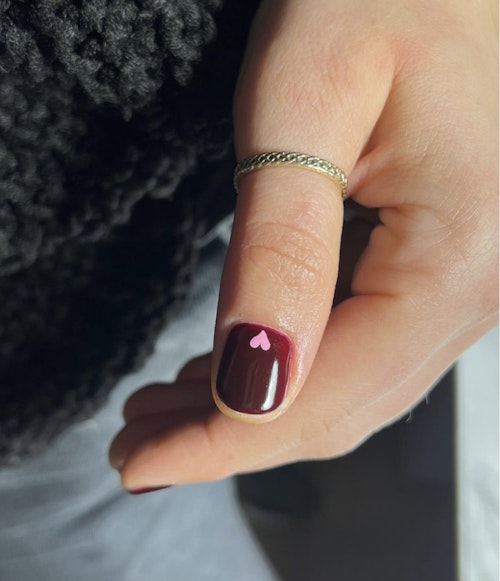 10 of 11
CREDIT: @michelleclassnails
Make any red nail just that bit more aesthetic with a tiny accent. Pro nail artist Michelle Class used Bio Sculpture's BIOGEL Color Gel in # 10 PINOTAGE to create the base of this uber-wearable deep burgundy look.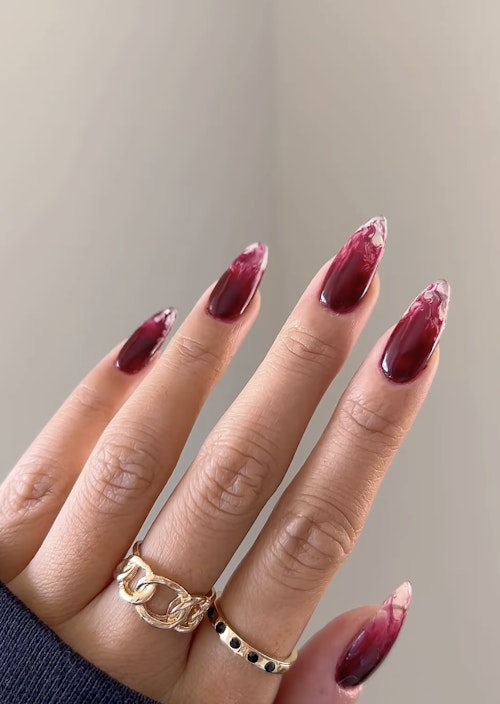 11 of 11
CREDIT: @vwnails_
Nail content creator Vivian W has given Halloween nails a new meaning with these bloody nails. She says, 'I put a layer of clear gel and then the color straight on top (hover and pull to your desire!) then cure'. Simple and very convincing indeed.